Posts Tagged 'Clicky Wordpress plugin'
The two biggest feature requests have been added to the 1.0.2 release of our plugin:
Field to enter in text that precedes the auto-tweet, e.g., New blog post:
New preference to always tweet new posts. Enabling this option should allow new posts that are created within third party interfaces (e.g., the iPhone) to be auto-shortened and auto-tweeted as well.
What are you waiting for? Download the new version now and tell us what you think!
Note: we are in the process of adding this to wordpress.org so that in the future, updates can be fully automatic from your WP admin page.
Well that was fast! Thanks to Yoast for his efforts, he completed this in less than 12 hours from the time he started working on it. He's pretty good. In addition to the existing features (outputting tracking code, tagging your visitors, and ignoring admin visits), our new WP plugin boasts the following awesome new features:
View stats from within your WP dashboard
clicky.me URL shortener integration
Option to automatically post new stories to your Twitter account with a clicky.me short URL when new stories are published
Goal integration (bonus!)
This requires WP 2.8 or higher. It has been thoroughly tested by myself and Yoast, but, there may be random issues we didn't encounter, or compatibility problems with other plugins. If you have any problems at all, please post them here so we can try to fix them as fast as possible.
If you have the old plugin installed, delete it before installing this one!
Download the new Clicky Wordpress plugin here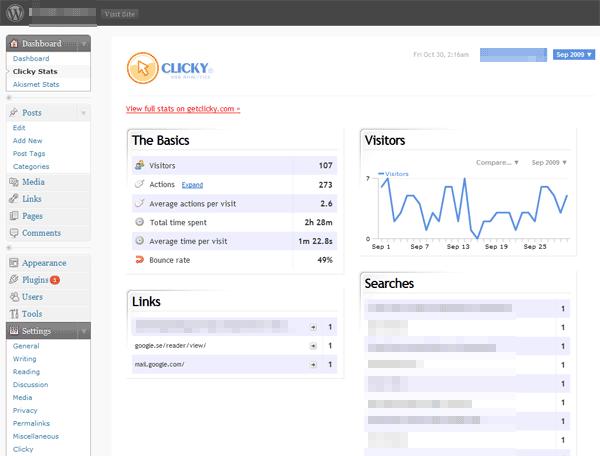 Update: Thanks to all of the people who applied for this. We have selected our developer, and development is already in progress. Thanks for all of your interest.
Our WordPress plugin seems to have serious compatibility issues with 2.7 and beyond. It's also lacking a couple of features we wish that it had. We find the WP API very difficult to work with and wish to never lay eyes on it again. Therefore, we are offering $1,000 to a qualified WP plugin developer to make the plugin of our dreams.
You need to be very experienced with the WP API, and must have developed at least one major (semi-popular) plugin, or several more minor ones. You also must be the type of person who believes code is a beautiful piece of art, because if there's one thing that gets my goat, it's messy code.
The current plugin just outputs the tracking code in the footer, and has a couple of options – automatically tag visitors who have previously left a comment (by grabbing a cookie that WP sets for commenters), and ignore visits from admins of the site. The new plugin, that you will be rewriting from scratch, needs to have that same functionality, as well as the following new features:
A page to view stats within the WP admin page, via an iframe that points to our site. We will be creating a special page that this iframe will be pointing to, so we (Clicky) are in control of how this page looks and are able to update it as necessary.
clicky.me API integration. Whenever a new story is posted, we want the author to have the option to automatically create a clicky.me short URL with our API and post it to Twitter via their API. This means the user will need to have a space to enter their Twitter username and password, and if they have done so, we want this option (a checkbox at the bottom of the story creation page) enabled by default.
We also need you to support it up through and including WP 3.0, so we can ensure it works perfectly for at least the next 6-12 months. By support, we are not talking about supporting our users. We mean you will be willing to update it, for free, if any updates to the plugin API break compatibility up through and including WP 3.0.
If you are interested, and qualified, please send an email to Sean, titled wordpress plugin, with your credentials/experience. Don't be offended if you don't get a response. We will be looking over all submissions but will only be contacting the top few candidates to narrow it down to the best one and then start the process.
We prefer to pay via Paypal if possible, and if you are outside of the US, this is the only payment method we can provide. If you have a US address, then we can also pay by check, if you prefer.